Ethics, transparency and integrity are values that are part of BRF's culture and are essential for all company relations. In this sense, BRF has an Ethics and Compliance Program with the objective of ensuring that these values are respected by all its employees, as well as by those who are part of its chain, from raw material suppliers to communities in which BRF acts.
BRF TRANSPARENCY MANUAL
The BRF Transparency Manual is the company's code of conduct and its contents can be viewed in the document below. It establishes the ethics, transparency and integrity culture guidelines and aims to foster and sustain a sustainable and responsible corporate culture.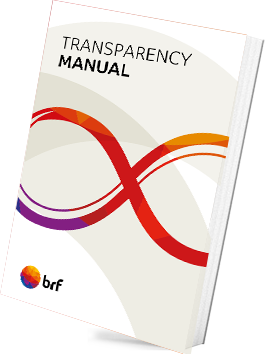 BRF also has policies that guide our day-to-day operations on various issues related to Compliance. Among them are: Corporate Anti-Bribery and Anti-Corruption Policy, the Corporate Policy on Gifts, Gifts and Entertainment, the Corporate Conflict of Interest Policy and the Reporting Policy on Complaints and Non-retaliation.
SEE OUR CORPORATE POLICIES:
Corporate
Conflict of
Interest
Corporate Anti-Bribery 
and Anti-Corruption
Policy
Anti-Money Laundering
and Counter Terrorism Financing
Corporate Policy
Reporting Policy on
Complaints and
Non-retaliation
Gifts, Presents
and hospitality
policy
Corporate Policy
of donations
and sponsorships
CODE OF CONDUCT
FOR BRF BUSINESS
PARTNERS
Code of Conduct
for BRF business
partners (Arabic)
Code of Conduct
for BRF business
partners (Turkish)