BRF offers food while nourishing and protecting natural resources.
Discover some of the Company's environmental initiatives:
1
Sustainable development
The incorporation of sustainability criteria into business management and strategy is an ongoing journey that seeks to anticipate market changes, prepare the Company to seize opportunities and ensure appropriate handling of risks and impacts. In the past few years, our vision of sustainability has matured both internally and in our relationship with stakeholders. Since 2000, we have followed public sustainability policies and guidelines and, in 2009, we started to conduct internal and external surveys intended to collect insights on our generation of impacts. This process underlies the materiality of BRF.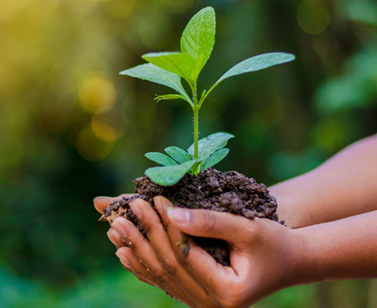 2
Environmental efficiency
BRF is aware of its duty to promote the proper use of natural resources across its value chain. Last year, investments in environmental efficiency programs totaled more than BRL 162 million, prioritizing environmental projects, forest management, effluent treatment and proper disposal of solid waste.
2.a) Water and effluents
Water is the main critical resource for the food industry, as its scarcity is detrimental to both field and plant activities. We believe it is extremely important to take part in River Basin Committees in the regions where we operate so, in 2019, we joined the UN Global Compact Water Group. In 2018, we also implemented an In-Company Water Group supported by a multidisciplinary team that proposes projects and actions to increase water efficiency at our units.
Management of effluents generated in industrial activities is a key effort to minimize potential impacts on the environment. We use preventive tools generated through on-site inspection to identify and address potential situations of an environmental event.
2.b) Energy, forests and emissions
Our risk management team carefully monitors energy consumption, considering price and energy availability as the factors that directly affect our operations. That is why we maintain the BRF Energy Excellence Program, conducted by corporate and unit teams, who manage efficiency in the use of resources across the Company. In 2018, 93.79% of the energy consumed in BRF came from renewable sources. Consumption of fuel from renewable sources (ethanol) in light vehicles was higher than that of non-renewable fuel, hence reducing the impact of GHG emissions.
On top of that, BRF has renewable forests planted as carbon inventory. It is a positive impact on the environment and helps to mitigate our impacts and balance the climate. Currently, our forest lands take 31,802 hectares spread across eight Brazilian states.
2.c) Waste and packaging
The Company controls waste by reducing, recycling and reusing materials throughout its value chain — from suppliers to post-consumption. Our waste management initiatives include composting organic waste to make biofertilizers.
The challenge of properly managing the impact of our products after purchase (packaging disposal) is part of BRF's daily routine. This effort is under the National Policy on Solid Waste, which establishes adjustments to the industry's production model, from operation to post-consumption. In 2019, BRF joined Reciclar pelo Brasil [which means Recycling across Brazil], a platform conducted with other organizations. This platform is part of the business community's strategy to comply with the National Policy on Solid Waste. This joint effort supports industry commitment to the environment and the sustainability of its packaging — a top priority in the organizations' investment agendas.
3
Supplier management
The Supply Chain Monitoring Program, which includes 21,200 suppliers, is intended to tighten social and environmental risk control and disseminate an ethical and responsible business model. The Code of Conduct for Suppliers establishes that the whole supply chain is expected to operate in line with BRF's legal standards and guidelines, and provides public information that is used to assess business partners, such as the areas under state control, as determined by Brazil's environmental authority — Ibama.
.
4
Animal welfare
100% of birds with freedom of movement and interaction in our poultry farms confirms our respect for the five freedoms of animals. This is just one of a range of practices that BRF adopts for one of the fastest growing agendas in modern industrial production: animal welfare. Animal welfare means the best practices in breeding, transporting and slaughtering animals.
Raising the bar on our standards of quality and sustainability are part of our daily challenges. Every step towards the future is key for BRF, so we celebrate the international Certified Humane stamp for the Sadia Bio range.
IF YOU ARE A PART IN THIS STORY, YOU ALSO FEED THIS ECOSYSTEM.
Download the annual report and learn more.
Annual Report