Management and HSE Program
HEALTH, SAFETY AND ENVIRONMENT PROGRAM (HSE)
Since 2006, BRF has invested health and safety aspects through its Health, Safety and Environment Program (HSE). Its management develops and executes actions that enable the safe behavior and valuation of life in our operations.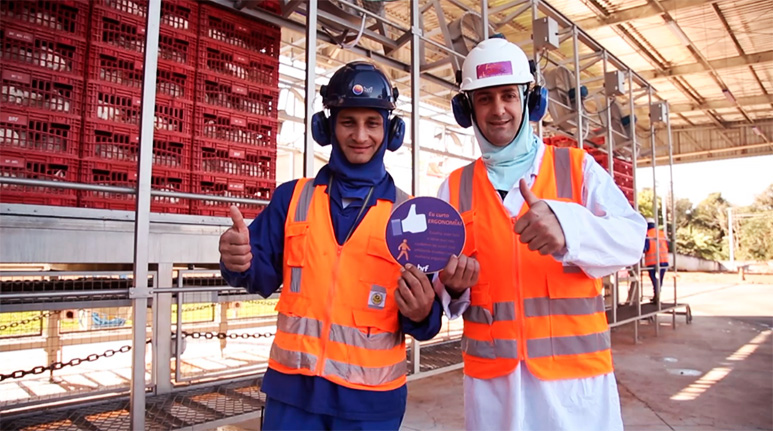 Some of our employees are exposed to risks inherent to the factory and agricultural operations, areas of greater attention. For this reason, we monitor and analyze these situations continuously, intensifying operational and administrative controls to eliminate or minimize such factors. The mapping covers:
• Working conditions;
• Risks present in the day to day activity;
• Follow-up of employees' health;
• Analysis of indicators of accidents, absenteeism, occupational diseases, among others.
In addition, programs such as Occupational Health Medical Control, Respiratory Protection, Auditory Conservation and Environmental Risk Prevention are adopted to guarantee the integrity and well-being of employees and communities, in a consolidated process in Brazil and implemented in 2015 in factories of Abu Dhabi (United Arab Emirates) and Argentina. At the manufacturing plants in Thailand, we have implemented gradual improvements in the operation model, with the challenge of consolidating HSE practices in the region.
The program is based in three pillars: Method, Behavior and Culture, and Facilities. Based on these pillars, the main practices attributed are:
• Formal leadership commitment;
• Clearly defined roles and responsibilities;
• Committees formally established;
• Working groups for deepening and specific needs;
• Established standards and procedures;
• Staff trained and qualified to perform their activities;
• Health and safety dialogues and behavioral tools conducted by leadership;
• Investigation of accidents and critical deviations;
• Risk analysis and emergency response plan, among other tools.
In addition, one of the main advances in the implementation of EHS management, was the development of Transformation groups (GTs) at the corporate and local levels. The objective is to reduce losses and promote continuous improvement, through analyzes conducted by the coordinators who manage two these groups, and specialists in related.
Check out some of the outstanding actions of the HSE Project in BRF Annual and Sustainability Report.
DOWNLOAD OUR MAIN DOCUMENTS ON HSE: